And the MVP is ……1201 Tree Bay Lane
Happy Monday everyone!   My most valuable property pick of the week, or what I like to call my MVP, is a beautiful home on Siesta Key.  I took a look inside this great house on Sunday with viewers in Michael Saunders & Co Virtual Open House, featuring it during a live feed on Facebook.   I'm busy editing that video and will link it to this post in a bit.  Meanwhile, let's dive into this week's MVP, and find out why it made my most valuable list!
1201 Tree Bay Lane, Siesta Key, FL
Listed by Nora Johnson & Klaus Lang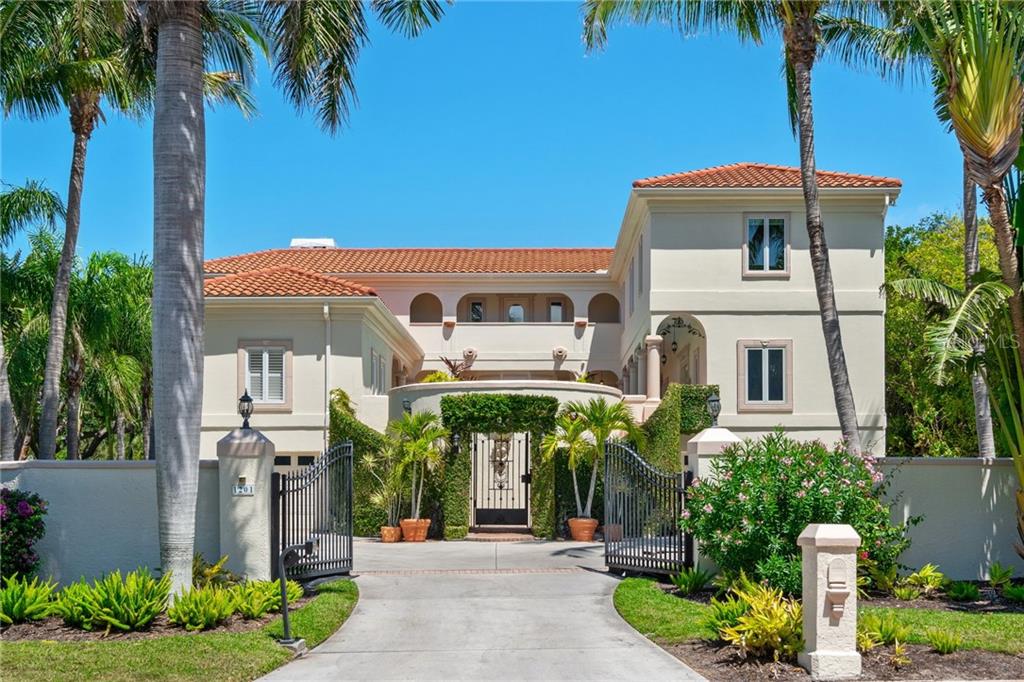 The House
This mediterranean home has lots of space. Situated on approximately 1/3 of an acre, and with almost 5600 sq ft., this house provides 4 bedrooms, 6 baths, an office, a media room, as well as a huge bonus room.   The 2200 bottle, eat-in wine cellar in this home is most definitely a valuable feature.  After living in our homes 24/7 these last two months, we have earned an appreciation for having a place in our homes to ourselves.  Whether its for work, a video call or simply peace of mind, we've all found ourselves looking for that space we can claim as our own.  And we are not alone in our thinking.  Leading Real Estate Companies of the World, chief economist, Dr. Marci Rossell reported last Friday in her weekly Economic Update that the trend towards buyers wanting more square footage is real and has taken foothold, with Luxury Portfolio president, Stephanie Anton adding that more buyers are entering the market now to secure a larger property in anticipation of a potential recurrence of another 24/7 stay-at-home situation like the one of recent.
The Exterior
My favorite exterior detail about this home is its outdoor courtyards and patios with partial view of the gulf.  From the family and the master balconies you have cool fresh air coming in from the gulf that you can see from your perch while taking a phone call or reading the news with your morning coffee.  Or wake up with your morning yoga stretch watching your favorite YouTube exercise guru out on the upper courtyard, still with a breeze and view, listening to the sound of water from your pool fountain below.  Or take advantage of the ease of preparing and eating dinner in your outdoor kitchen, while enjoying the….oh, did I mention this property gets a great gulf breeze and has a partial view of the gulf?
The Location
Deeded beach access is the key to living at this house.  When you live next door to the #1 ranked beach in the United States, this is a quantifiable valuable feature.  Located on the quieter and slender south end of Siesta Key, the beach is literally a short walk from your front door.  Just cross the street to the other side of Tortoise Estates and three houses in you'll find a short, meandering shell pathway that opens up to 180 degree spectacular view of the gulf.  Go in the morning and get your steps in for the day with a brisk walk or run, or have a romantic sunset walk later in the day.
It's like living on the beach, without the beachfront price tag.
Click here to walk the actual  Deeded Beach Access.
My second favorite thing about this location is it's proximity to both the drydock at Turtle bay, and the boat ramp at Turtle beach.  Also just around the corner, you have these two access points to get your boat into the water.  And that makes owning a boat easy to use and fun.  Because if you love the water, then boating in Sarasota is a fabulous way to enjoy it.
Favorite Places to Go on Siesta Key
Besides the water and the beach, my next favorite thing to do is grab a quick something to eat.  Siesta Key has plenty of offerings.  In the village, a must go to for breakfast is Bonjour French Cafe.    Veronique and her husband, the owners, make an outstanding crepe-like spinach and goat cheese omelette that's delicious.  A fav of mine for dinner is the Summer House.   It's great for drinks and an appetizer for two, or a really nice dinner with the family.  Another fun place for a cool frozen drink on a hot day is the Daiquiri Deck located both in the village, but also the location close to this MVP property has an open second story location with incredible views and lively atmosphere.
Hope you liked this week's MVP!  If you have any questions about this valuable property or about making a move to Sarasota, feel free to reach out and we will redesign your real estate portfolio together.
Warmly,