And the MVP is ……525 Putter Lane
Happy Monday everyone!   My most valuable property pick of the week, or what I like to call my MVP, is a beautiful home on Longboat Key.  I took a look inside this great house on Sunday with Facebook friends in Michael Saunders & Co's live Virtual Open House.   I've posted the video on YouTube and on Facebook.  Meanwhile, let's dive into this week's MVP, and find out why it made my most valuable list!
525 Putter Lane, Longboat Key FL
Listed by Ian Addy & Gail Wittig

The House
This custom 4 bedroom 4 1/2 bath home is on a quiet premier street in Country Club Shores on Longboat Key.  It qualified as a MVP property for many of its interior features, but my favorite is all the extra useable space.   Two interior extra rooms with beautiful spanish tile floors are fabulous.  Whether you need an office space, an art, music or reading room, a study with a wet bar…the opportunities for use of these two rooms are many.  Additionally, with 4280 interior square footage, and 5762 sq ft under roof when the many covered balconies and patios are included…this house provides space for relaxing, dining working and living both inside and out.
The Exterior
The valuable feature that qualified this house as an MVP is its waterfront backyard in a cul-de-sac canal thats only a brief ride to open bay with no bridges.  Watch my live video on FB at minute 19 to see the boat ride to the Bay.  The lot size is big for on the water at .43 acres and beautiful landscaped with palms and tropical foliage providing privacy, where your backyard feels like a beautiful quiet resort retreat.  Again, the patios are ample enough for entertaining with a lovely pool, and still leaves enough yard for gardening or grandchildren playing.
Click Here to watch a video of the deeded beach access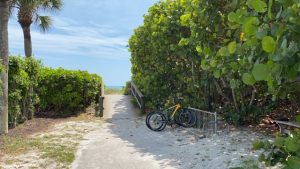 The Price
This house is priced to sell at $396/sq ft. This is below market value so its ripe as an investor purchase for waterfront , open bay property.   See the attached Market summary for the neighborhood competition.
Living on Longboat Key
Just a quick ten minute drive to Sarasota, Longboat Key is the perfectly situated place to live if you want to be close to the bay and the beach, and still be able to get into town easily to go to dinner, see a play, or get to work.  There's still plenty to do on the key.  With a multitude of restaurants and St. Armand's circle a couple minutes away, there's no shortage of shopping and restaurants on the key.  One great activity membership to look into would be the Longboat Key Club.  With its 45 holes of golf, 20 tennis courts and a beach with full beach service, along with 5 restaurants, the club will provide hours of entertainment for you and your guests.
Click here to view the LongboatKey Club