And the MVP is a Craftsman Charmer …… 1657 Alta Vista Street, Sarasota FL
Happy Monday everyone!   My most valuable property pick of the week, my MVP, is a unique craftsman located on Bungalow Hill, this craftsman style home is in an exceptional West of Trail neighborhood.  Only a couple of streets south of downtown Sarasota, and two blocks from Sarasota Bay, it has a charm factor off the charts.  The extensive renovation and upgrades not only brings this home to current building code standards making it super energy efficient, the owners took special care to maintain the charm and character of this 1916 vintage home.  In my book that makes this house the perfect package.   Keep reading to find out why it made my most valuable list!
​These owners give back!
This house was allowed to be used for the 25th Annual Jewels on the Bay Designer Showhouse benefiting the Boys & Girls Clubs of Sarasota County in its 2020 Showhouse. The following designers gave of their time to decorate the rooms in the house in a cohesive lovely manner.  Due to COVID19, the fundraiser was cancelled.  Thankfully because of the generosity and giving spirit of the owners, a  portion of the sale proceeds will be donated to the Boys & Girls club.   Although many of the furnishings do not remain in place (save the master bedroom and a couple other pieces), the furnishings can be viewed for design inspiration online.  Below are a few of my photos of the fabulous screened porch.  For the complete 2020 Designer Showcase of 1657 Alta Vista St. virtual tour click here!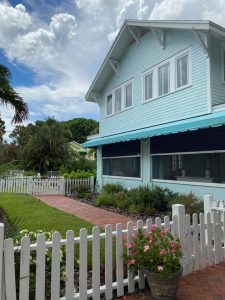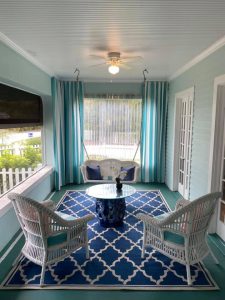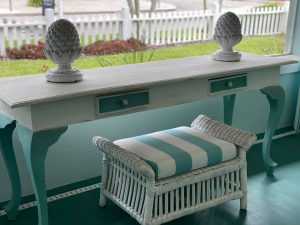 Maintaining integrity of home…
It is not easy to rehabilitate an old home.  This home was from 1916 built in an area originally known as Sarasota Heights.  So this home is 104 years old!!!  The current owners took painstaking, and many times more costly than the alternative, to bring this home to where it met today's building codes.  They have made this home energy -efficient with updated electrical wiring, A/C's water heater, insulation, new roof, new hardyboard siding, a strapped down foundation, hurricane readied….I could go on and on, and will happily send you a list of all the many many improvements they made to this home.
These changes were completed all while carefully working around the intricate molding and built -in details, the original wood floors, and the original windows in many instances.  When you walk in the home, it feels like you are transported into the past, but accompanied by air conditioning, modern appliances, stillness and quiet and great design.
Take a quick walkthrough of this home here!
Finally – Location…
I can't leave without mentioning the location is primo for this home.  It's elevation is slightly higher than sea level, so you actually get a nice breeze off the bay which is only 2 blocks away.  Its also a short walk – again a few blocks – to downtown Sarasota, where you'll be at the Farmer's Market shopping for your week's produce in minutes.  Or perhaps you'll walk to dinner and a play.  So much to do and see in downtown.  Try the Shrimp and grits at Owen's Fish Camp nearby.  They're my favorite!
So email me at melissagissinger@michaelsaunders.com for more information on this fantastic home.  If you like vintage, you won't be disappointed!